*** NOTICE OF CHANGE TO CIVIL CASE MANAGEMENT CALENDAR, EFFECTIVE NOVEMBER 6, 2023 ***

For Civil, Probate, Small Claims, Appeals, and Mental Health case types, the Court has deployed a new case management system: eCourt. Access to case information for eCourt cases is available at: https://ventura.ecourt.com/public-portal

Please Note: Documents submitted through eDelivery are not automatically filed and instead must be processed and entered into the case management system for filing by the Clerk's Offices. eDelivery should not be confused with eFiling, which the Court expects to adopt for Civil, Probate, Appeals, and other case types at some point in 2024. Because of the time associated with processing eDelivery documents, parties are also reminded to adhere to filing deadlines applicable by statute and court rule (or court order). The Civil Department alone, receives approximately on average over 200 submissions a day, which can include multiple documents. Because of the volume of documents submitted by eDelivery and staffing shortages in the Clerk's Office, late documents submitted for filing by eDelivery, including, but not limited to – replies, stipulations to continue a hearing, notices of remote appearance, and case management statements - may not be processed timely for hearings.
Notice re: Civil & Probate Conformed Copies - Effective 5/16/23
Appointments are required for service at the Civil, Small Claims and Family Law Clerks' Offices at the Hall of Justice (Ventura) and at the Clerk's Office at the Juvenile Courthouse (Oxnard). Appointments are also required for Family Law and Civil Self-Help; Records & Exhibits; Collections; and Family Law Mediation. (See below: "Schedule an Appointment"). Walk-in service is not currently available. No appointments are necessary for the outside walk-up windows at the Hall of Justice and the East County Courthouse (Simi Valley) which are open for Criminal/Traffic and Collection Filings/Payments.

E-Delivery and the drop boxes at the Hall of Justice and the Juvenile Courthouse are available for Civil, Small Claims, Family Law, Probate, and Appeals filings up to 4 p.m., Monday - Friday. Documents may also be submitted through U.S. mail.

Remote appearance may be available for certain hearings. Click on Remote Appearances below for more information about the process to request a remote appearance in Civil, Family Law and Probate hearings. You can also visit the Divisions tab for your type of case to see what type of appearance may be available.

The court continues to broadcast live audio streams of certain court proceedings pursuant to the provisions and limitations of Amended Administrative Order 21.25.

Civil Mandatory Settlement Conferences are conducted in Courtroom 22. If a party/attorney is not able to appear remotely using the Zoom platform they are to contact the Courtroom 22 judicial secretary for a continuance. (Please consult the "Civil" Divisions tab on this website for further details).

Summoned jurors are to check the Jury Service page on this website for reporting times and other updates.

For criminal hearings and trials, if you are currently represented by the Public Defender – contact your assigned attorney BEFORE coming to court for instructions. If you have a hearing on calendar for a MISDEMEANOR OR FELONY, visit Online Public Access for your specific case information. If you are unable to hire your own attorney --- you may contact the Public Defender's Office.

Court News & Notices

View our Court Reporter Policy
*** Military & Veterans Notice ***
Notice to Military Personnel & Veterans
Posted November 11, 2023
Notice - Submission of Evidence for Unlawful Detainer Trials – Effective November 15, 2023
Posted October 24, 2023
Notice of Change to Civil Case Management Calendar – Effective November 6, 2023
Posted October 24, 2023
Formal Enrobement Ceremony for Judge Marine Dermadzhyan
Posted October 19, 2023
Governor Appoints Paul Feldman to Superior Court Judgeship
Posted August 8, 2023
Judge Marine Dermadzhyan Takes the Bench
Posted June 14, 2023
Judge Anthony Sabo Receives Public Safety Award
Posted June 9, 2023
Formal Enrobement Ceremony for Judge Paul W. Baelly
Posted June 5, 2023
PUBLIC NOTICE: Asset Forfeiture Calendar Notice
Posted May 5, 2023
Judge Manuel J. Covarrubias Retires
Posted April 17, 2023
Judge Tari L. Cody Confirmed to Second Appellate District Court of Appeal, Division Six
Posted March 29, 2023
Two Ventura Superior Court Judges Named Judge of the Year for Years 2021 and 2022
Locations, Directions & Other Information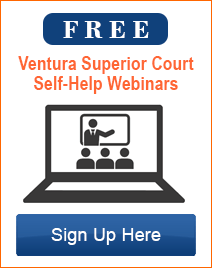 VIDEO: How to Register for a Self-Help Webinar
VIDEO: How to Participate in a Legal Self-Help Webinar
Phone Numbers
| | |
| --- | --- |
| Main Number | 805-289-8900 |
| Appeals | 805-289-8527 |
| Civil | 805-289-8525 |
| Collections | 805-639-5010 |
| Criminal / Traffic | 805-289-8545 |
| Family Law | 805-289-8610 |
| Jury Service | 805-289-8661 |
| Juvenile | 805-289-8820 |
| Records | 805-289-8668 |
| Small Claims | 805-289-8526 |
Our Mission