*** BEGINNING, SEPTEMBER 13, 2022 ***
Masks are not required for entry into the courthouses, although the court strongly encourages their use.
See Administrative Order 22.18
*** A PARTIR DEL 13 DE SEPTIEMBRE DE 2022 ***
No será obligatorio traer mascarilla para entrar a los tribunales; sin embargo, su uso de recomienda encarecidamente.
Véase la orden administrativa 22.18
*** NOTICE OF UPDATED CLERK'S OFFICE HOURS, EFFECTIVE JANUARY 3, 2023 ***
Masks are not required for entry into the courthouses, although the court strongly encourages their use. (Administrative Order 22.18).

To protect the health and safety of all court users, the court is requiring appointments for service at the Civil, Small Claims and Family Law Clerks' Offices at the Hall of Justice (Ventura) and at the Clerk's Office at the Juvenile Justice Center (Oxnard). Appointments are also required for Family Law and Civil Self-Help; Records & Exhibits; Collections; and Family Law Mediation. (See below: "Schedule an Appointment"). Walk-in service is not currently available. No appointments are necessary for the outside walk-up windows at the Hall of Justice and the East County Courthouse (Simi Valley) which are open for Criminal/Traffic and Collection Filings/Payments.

E-Delivery and the drop boxes at the Hall of Justice and the Juvenile Justice Center are available for civil, small claims, family, probate, and appeals filings up to 4 p.m., Monday - Friday. Documents may also be submitted through U.S. mail.

Remote appearance may be available for certain hearings. Click on Remote Appearances below for more information about the process to request a remote appearance in civil, family law and probate hearings. You can also visit the Divisions tab for your type of case to see what type of appearance may be available.

The court will continue to broadcast live audio streams of certain court proceedings pursuant to the provisions and limitations of Amended Administrative Order 21.25.

Civil Mandatory Settlement Conferences are conducted in Courtroom 22. If a party/attorney is not able to appear remotely using the Zoom platform they are to contact the Courtroom 22 judicial secretary for a continuance. (Please consult the "Civil" Divisions tab on this website for further details).

Summoned jurors are to check the Jury Service page on this website for reporting times and other updates.

For criminal hearings and trials, if you are currently represented by the Public Defender – contact your assigned attorney BEFORE coming to court for instructions. If you have a hearing on calendar for a MISDEMEANOR OR FELONY, visit Online Public Access for your specific case information. If you are unable to hire your own attorney --- you may contact the Public Defender's Office.


Click HERE for COVID-19 Emergency Orders, Guidelines and Procedures
Court News & Notices

View our Court Reporter Policy
*** Military & Veterans Notice ***
Notice to Military Personnel & Veterans
Posted Januart 6, 2023
Court Seeking Civil Grand Jury Applications
Posted December 27, 2022
PUBLIC NOTICE: Notice of Updated Clerk's Office Hours - Effective January 3, 2023
Posted November 2, 2022
There is a Court Reporter Shortage Crisis in California
Posted October 6, 2022
PUBLIC NOTICE: Change in Remote Appearances in Courtroom J6 - Effective November 1, 2022
Posted September 23, 2022
Judge Tari L. Cody Honored by Women Lawyers of Ventura County
Posted September 12, 2022
Ventura Superior Court Lifts Face Mask Requirement but Continues to Strongly Encourage All Court Users to Wear Masks
Posted September 2, 2022
Judge Maureen M. Houska Takes the Bench
Posted August 11, 2022
Ventura Superior Court Elects Presiding and Assistant Presiding Judges
Posted August 9, 2022
PUBLIC NOTICE: Ventura Superior Court Preliminary Budget for Public Review and Comment
Posted August 8, 2022
PUBLIC NOTICE: Ventura Superior Court Baseline Budget for Fiscal Year 2022-2023
Posted August 2, 2022
Posted July 15, 2022
Superior Court Reinstates Mandatory Face Mask Requirement for All Persons
Locations, Directions & Other Information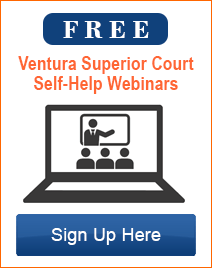 VIDEO: How to Register for a Self-Help Webinar
VIDEO: How to Participate in a Legal Self-Help Webinar
Phone Numbers
| | |
| --- | --- |
| Main Number | 805-289-8900 |
| Appeals | 805-289-8527 |
| Civil | 805-289-8525 |
| Collections | 805-639-5010 |
| Criminal / Traffic | 805-289-8545 |
| Family Law | 805-289-8610 |
| Jury Service | 805-289-8661 |
| Juvenile | 805-289-8820 |
| Records | 805-289-8668 |
| Small Claims | 805-289-8526 |
Our Mission