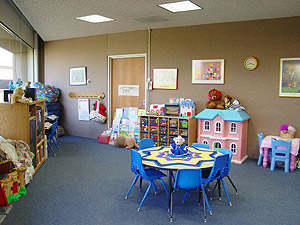 The Children's Waiting Room is a drop-in service designed to provide a supervised environment in which parents may leave their children while conducting business with the courts. It provides parents peace of mind by allowing them to quickly complete their business while placing their children in a safe and nonstressful place to play.
Children must be at least 2½ years old and toilet trained. Parents may not leave the courthouse for any reason without first picking up their children. A maximum of eight children will be allowed in the Children's Waiting Room at one time. When the waiting room is at capacity, no further children will be accepted until space becomes available. Children must be picked up by their parent or an authorized responsible adult identified at the time of drop off. As space is limited, children should be picked up as soon as possible to assure that space is available.
This service is provided by the courts at no charge and is supported by volunteers and donations. The Children's Waiting Room is open 8:00 a.m. to 12:00 p.m., and 1:15 to 5:00 p.m.
To learn more about our Children's Waiting Room, volunteer or donate your services, call (805) 289-8900.