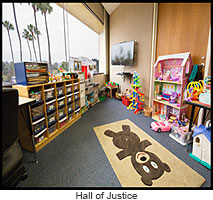 Due to the COVID-19 pandemic, the Children's Waiting Room at the court remains closed. Parties who bring their child (or children) to court must arrange for an adult to watch the child (or children) during the mediation.
(See Admin Order 21.18)
The Children's Waiting Room is a free drop-in service designed to provide a supervised environment for children while their parents or guardians conduct business with the court. It provides parents with peace of mind by allowing them to complete their business while placing their children in a safe and non-stressful place to play. A maximum of eight to ten children are allowed in the Children's Waiting Room at one time, depending on staffing. At the Hall of Justice, priority is given to children participating in custody mediation and who are witnesses. Children brought at the same time that are not part of the court proceedings may be turned away, depending on the circumstances. When the waiting room is at capacity, no further children will be accepted until space becomes available.
The Children's Waiting Room has many games and toys, along with movies, puzzles and books to read. There are supplies for arts and crafts, and the staff can help children with their crafts. The children are provided juice or water and crackers, free of charge.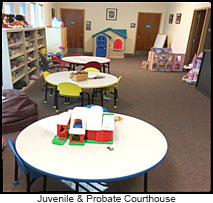 Guidelines for the entry in the waiting room are:
• Children 2½ years old (and toilet trained without diapers or pull-ups) through age 14 are admitted.
• Children should eat and use the restroom before they are brought to the Children's Waiting Room.
• Children must be able to follow basic directions. If the child causes any unsafe behavior, or exhibits excessive emotional or behavioral problems, the child may need to be picked up by the parent /guardian
• Children must be free of lice or any illness that is contagious. Any child showing signs of lice or illness will not be allowed into the room for their protection, and for the safety of other children
• If your child has a medical condition that may require attention, please inform staff immediately. Those who need professional medical help may need to find alternate care.
• Children must be picked up by the person who brought and registered the child or an authorized responsible adult identified at the time of drop off.
• Parents/Guardians, and anyone designated to pick up the child, must have a valid photo I.D. or the child may be refused.
• Children must be picked up as soon as court business is over, as this is a "drop-in" service and others may be on a waiting list for entry into the waiting room.
• Parents may not leave the courthouse for any reason without first picking up their children.
The Children's Waiting Room is open on the days noted below from 8:00 a.m. - 12:00 p.m. and 1:15 p.m. - 5:00 p.m. at the following locations:
Hall of Justice
800 South Victoria Avenue
Ventura, CA 93009
Closed until further notice.

Juvenile and Probate Courthouse
4353 East Vineyard Avenue
Oxnard, CA 93036
Closed until further notice.
If you are interested in being a volunteer or intern in our Children's Waiting Room, call (805) 289-8618.