Courtroom Presentation Equipment
System Overview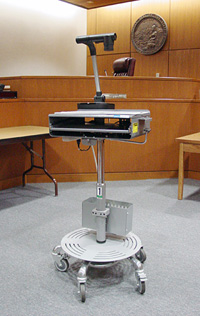 The Ventura Superior Court has six Evidence Presentation system (EPS) carts available for courtroom presentations. Five are located in the Ventura Courthouse and one in the East County Courthouse. These carts allow parties and attorneys to show evidence and presentations using a variety of tools. The evidence or presentation is projected onto a large screen for courtroom viewing. The system includes the following equipment:
Samsung SDP-860 Digital Presenter - This is a camera that can present materials such as 3-D objects and transparencies. It is optimized for low-light use, and has microscopic zoom capability (up to 48x digital).
SecurityWorks Technology Workstand 9095 – these stands house the Samsung cameras and laptops, and are easily deployed throughout the courtrooms. The height of the tray is adjustable from 28" to 48".
Laptop - The court does not provide laptop computers and will not assist with configuring or troubleshooting connection problems. However, the system does have a VGA connection that allows the presenter to connect a laptop computer in order to display files or presentations (if the connection is working properly).
It is the responsibility of the user to make sure that the laptop is configured correctly to connect to the system.
Guidelines
The only personal equipment that can be directly connected to the presentation system is a laptop computer. If you require other equipment, you must be able to access it through the laptop connection. No Exceptions.
There is no charge for using the equipment.
The court does not provide any software for laptops used with the system (i.e. Powerpoint).
There are a limited number of EPS carts available, and reservations are first come, first served. Notify the courtroom Judicial assistant at least 24 hours in advance to secure a presentation device for your trial.
Inform the Judicial Assistant (JA) in the appropriate courtroom as to when you want the EPS available for your trial (usually prior to opening statements).
The JA will schedule the equipment, reserving the equipment for the anticipated length of the trial.
The JA will make any necessary adjustments to the reservation as required (e.g. trial ends early or runs long).
User's Guide
The EPS Operating Instructions procedure can be found posted on each cart, as well as available in the Adobe Acrobat PDF file below.
Evidence Presentation System (EPS) Operating Instructions
Training
The procedure for operation of the new EPS systems has been greatly simplified, and pre-training is no longer necessary. The operating instructions are available on each cart, and at the time of setup, Court ITU personnel can demonstrate the basic features if needed. In addition, we are in the process of filming a short video tutorial to demonstrate the most commonly used features of the new system.
Note: Ventura Court employees are not authorized nor permitted to activate, handle, or configure non-Court equipment. Support for private equipment is the responsibility of the owner.